Colorado Criminal Law – What If I Run? – Absconding – Fleeing A Colorado Criminal Case – Evidence Of Flight At Trial
By H. Michael Steinberg Colorado Criminal Domestic Violence Lawyer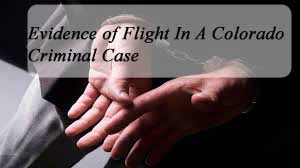 Colorado Criminal Law – What If I Run? – Absconding – Fleeing A Colorado Criminal Case – Evidence Of Flight At Trial – An immediate reaction to the fear of a criminal prosecution is what is commonly known as the "flight" response. It is a natural fear, and while it occurs often, few actually flee the state.
This article addresses the impact of "flight" evidence in Colorado criminal cases.
Fleeing – Absconding – One Of The Worst Decisions You Can Make In A Colorado Criminal Case
Under Colorado law – evidence of "flight" or absconding from the scene of an arrest – or even later in the process, fleeing the state after the arrest and a bail bond has been posted while the criminal case makes it's way through the Colorado criminal justice system, is admissible at trial to show something called "consciousness of guilt."
There are two basic types of flight in a Colorado criminal case.
Two Kinds Of Flight To Avoid Prosecution Under Colorado Criminal Law – Evidence of Flight – Absconding From A Colorado Criminal Case While The Case Is Pending In The Colorado Criminal Court System
A recent Colorado case (People v Gee – Flight) addresses whether evidence of a Defendant's flight from Colorado to avoid prosecution is admissible at that Defendant's trial – (if and when the fleeing Defendant is caught and prosecuted, of course.)
Evidence that the accused fled Colorado to avoid prosecution has been held as relevant and admissible at their subsequent trial under a theory of relevance known as "consciousness of guilt."
Juries may hear evidence of flight to show that:
"after the charged crime, the accused acted in ways …calculated to avoid detection, arrest, prosecution, or conviction."
Another basis for the admission of evidence of flight is the rationale that in a criminal trial evidence of flight indicates a "guilty mind" from which "guilt (of the crime charged) itself may be inferred." Evidence of flight is therefore admissible because it makes it appear more likely that the accused committed the charged offense – that is, the evidence makes it "look like" the Defendant is guilty and his guilt is more probable than it would be without such evidence. (CRE 401).
The Colorado Res Gestae Rule – A Theory For Admitting "Flight" From Colorado Evidence
While it may seem to the reader to be just "legalese," it is important to know how evidence that a Defendant fled Colorado weeks, if not months, after an arrest could be admissible at their criminal trial. The answer is a doctrine of law known as "res gestae" evidence.
Res gestae evidence is:
"evidence of other offenses or acts that is not extrinsic to the offense charged, but rather, is part of the criminal episode or transaction with which the defendant is charged."
If evidence is:
"linked in time and circumstances with the charged crime, (it) forms an integral and natural part of an account of a crime, or is necessary to complete the story of the crime for the jury."
The Colorado Court of Appeals held in the 2015 Gee case that evidence of a Defendant's flight is so integrally linked to the criminal transaction for which he was charged, as to constitute res gestae evidence and that flight evidence can be remote in time but be so "inextricably intertwined" such that the evidence "forms an integral and natural part of an account of the crime."
In the the Colorado Court of Appeals defined the nature of Res Gestae evidence:
"Res gestae is a theory of relevance which recognizes that certain evidence is relevant because of its unique relationship to the charged crime…"
Evidence of Flight – Absconding From The Scene Of An Arrest Under Colorado Law
If a Defendant attempts to flee at or near the time of an arrest or attempted arrest, evidence of flight is almost always admissible at their trial. The circumstances of a Defendant's arrest or actions in avoidance of arrest that tend to show "guilty knowledge" are "part and parcel of the total picture surrounding the [offense]."
While O.J. Simpson was acquitted by a criminal jury, the reader may recall his attempt to flee in his white SUV. That evidence was admissible at his trial to show "consciousness of guilt" on Simpson's part.
But – and this is very important – for flight evidence to be admissible, the State must prove that a Defendant was concealing himself to avoid apprehension. Put differently, evidence of flight and concealment to avoid arrest is only admissible to show "consciousness of guilt" IF it can be shown the Defendant was aware he or she was being sought by law enforcement.
"Flight" means the "deliberate attempt to avoid detection and arrest."
Even more importantly, is the rule that flight evidence, standing alone, is NOT sufficient to support a conviction of the crime charged because it is not proof of the crime itself, but is only considered "corroboration" of other evidence in the case and is relevant on that basis.
Another Hidden Danger – The Charge of Violation Of Bail Bond Conditions – Mandatory Consecutive Jail – 18-8-212, C.R.S.
Also laying in the weeds is the fact that evidence of flight also may constitute another crime – that crime is called Violation of Bail Bond Conditions 18-8-212 and this law mandates – if a Defendant is convicted – a sentence to jail or prison that must run consecutively to the offense on which the person is on bail.
I hope this information is helpful to the reader. HMS
Colorado Criminal Law – What If I Run? – Absconding – Fleeing A Colorado Criminal Case – Evidence Of Flight At Trial
If you found any of the information I have provided on this web page article helpful please click my Plus+1 or the Share buttons below so that others may also find it.
Never stop fighting – never stop believing in yourself and your right to due process of law.
ABOUT THE AUTHOR: H. Michael Steinberg – Email The Author at hmsteinberg@hotmail.com – A Denver Colorado Criminal Defense Lawyer – or call his office at 303-627-7777 during business hours – or call his cell if you cannot wait and need his immediate assistance – 720-220-2277. Attorney H. Michael Steinberg is passionate about criminal defense. His extensive knowledge and experience of Colorado Criminal Law gives him the edge you need to properly handle your case.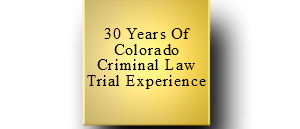 You should be careful to make a responsible choice in selecting a Colorado Criminal Defense Lawyer – and we encourage you to "vet" our firm. Over the last 30 plus years – by focusing ONLY on Colorado criminal law – H. Michael has had the necessary time to commit to the task of constantly updating himself on nearly every area of criminal law, to include Colorado criminal law and procedure and trial and courtroom practice. H. Michael works hard to get his clients the best possible results in and out of the courtroom. He has written, and continues to write, extensively on Colorado criminal law and he hopes this article helps you in some small way – Colorado Criminal Law – What If I Run? – Absconding – Fleeing A Colorado Criminal Case – Evidence Of Flight At Trial.