The Dangers Of Juror Contact In A Colorado Criminal Jury Trials – Colorado Criminal Trial Law Guide
By H. Michel Steinberg Denver, Colorado Domestic Violence Criminal Defense Lawyer – Email the Author at [email protected]
The Dangers Of Juror Contact In A Colorado Criminal Jury Trials – Colorado Criminal Trial Law Guide – Knowing how to look and act in court means putting your best foot forward in every way possible. Massive amounts of nonverbal information passes to and from a jury every minute court is in session – even when jurors see you in the halls, bathrooms and the cafeteria.
This article explores the messages received by jurors – both verbal and non-verbal – during the trial. It contains common sense suggestions that directly relate to principles of persuasion and which are intended to assist defendants with information about their conduct in the courtroom that they may not receive from any other source.
How You Should Act In Court – The Jury and The Judge Are Watching
The old adage – perception is reality – could not be truer in the courtroom. From the DA – who is prosecuting the case to the Judge – who will be ruling on evidentiary issues and will be sentencing – to the Jury – who decides your guilt or innocence, how you are "perceived" could not be more important to a successful result.
Jurors are people. They are "watchers" during the trial and have very little chance to interact directly with the participants outside of the jury selection phase of the trial. Jurors decide the facts of a case. They are instructed to make decisions of the credibility of witnesses – most often deciding who is telling the truth between two or more completely contradictory versions of the "truth."
Colorado's Criminal Law Jury Instructions actually contains an instruction on how they are to perform this important task.
Here is the instruction I referenced:
"This case must be decided only on the evidence presented at trial and the law as I instruct you.
You may have to decide what testimony to believe. You should carefully consider all of the testimony given and the circumstances under which each witness has testified.
Consider each witness's knowledge, motive, state of mind, demeanor, and manner while on the stand. Consider the witness's means of knowledge, ability to observe, and strength of memory. Consider also any relationship each witness may have to either side of the case; the manner in which each witness might be affected by the verdict; and the extent to which, if at all, each witness is either supported or contradicted by other evidence in the case.
You should consider all facts and circumstances shown by the evidence which affects the credibility of the witness's testimony. You may believe all of the testimony of a witness, or part of it, or none of it.
Is There Reasonable Doubt About The State's Case Against You?
The jury decides whether the state of Colorado has proven it's case beyond a reasonable doubt. This is the critical decision in every case.
Reasonable doubt means a doubt based upon reason and common sense which arises from a fair and rational consideration of all of the evidence, or the lack of evidence, in the case. It is a doubt which is not a vague, speculative or imaginary doubt, but such a doubt as would cause reasonable people to hesitate to act in matters of importance to themselves.
So what a juror thinks of the "package" that is YOU – is the single most important determination for the trial. .. Again there even an instruction on how you should act outside the courtroom.
C:13 Jurors' Conduct During Trial -Discussions Outside Presence of Entire Jury
"Members of the jury, you may discuss this case only when you are all present and you may only deliberate in the jury room. No juror should attempt to discuss this case with other jurors or anyone else at any other time except when all jurors are in the jury room."
Some Basic Rules For A Defendant's Behavior In And Out Of The Courtroom
Defendant's can NOT communicate – directly or indirectly – with anyone who is a member of the panel from which the final jury is selected or with jurors ultimately make it to the jury.

Do NOT mistakenly communicate through the internet or research the names and backgrounds of any juror as – in Linked In – they may be notified of your search.

Do NOT be overly solicitous or obsequious in the presence of jurors during the trial.

Never audibly criticize or comment on anything a juror does – such as if a question is asked during a trial.

Don't LEAK information – (staged whispers) – to a jury that they could not receive through the evidence admitted during the trial.
How To Put Your Best Foot Forward If You Are In Trial
Get There Early – Always be ready for the start of any trial or motions hearing by arriving before anyone else and patiently waiting.. Get there at least 30 minutes early and no less than 15 minutes before the start of the hearing. Getting there early sends the message to the judge, the DA and your lawyer – that you care about what is happening that day.
Dress and Appearance – You want to appear as if you are running for office – a conservative office. Your clothes should be clean and pressed. They should be new if possible and fit well. You should get a haircut if your hair is long (a man) and you should cut way back on jewelry if you are a woman.
Juries – and I have sat on them – study the defendant before the first word is uttered in a courtroom. You want to impress everyone is the courtroom with how seriously you are taking your case. The first impression comes from your total "look" dress as if they were going to church, a funeral, or a job interview.
You should hide piercings, tattoos, and you need to die hair that has "bright" colors back to a more "normal" color…. men – no muscle shirts – women – no cleavage. Bottom line – if it is questionable – remove or change it to show respect for the court. This is not a time to assert your independence.
Respect For the Court – Courtrooms have their own kind of formality and the language you use is important. If the judge asks you a question – you should answer audibly with "Yes, sir" and "No, sir." I insist my clients include the words "Your Honor" but not to the point of obnoxiousness. You can use – "yes Sir – or yes Ma'am" every once in a while.
If A Judge Addresses You – always speak to the judge respectfully by maintaining your composure. Never – ever lose your temper. If you need time to gather yourself ask your lawyer to request a brief recess.
Make Eye Contact – Having good eye contact with the judge – the jury – a witness – the DA – everyone – and at all times – lets the world of the courtroom know that you are confident and you are innocent with nothing to fear.
Stand up – Stand up when you are addressed by the judge and when the dialogue is finished – sit back down. Thank the judge after you speak if it is appropriate to do so.
Do NOT Communicate With Others In Courtroom During A Trial Or A Hearing – This means no gestures – non verbal cues such as eye rolling or making quiet comments to a witness or the DA.
No Hands In Your Pockets – Enough said.
Unless You Are On The Witness Stand Ask Your Lawyer For Permission To Speak – Even if a questions seems routine – ask your lawyer if you should answer it and don't answer until and if you are instructed to do so.
"Staged Whispers" – Any communication in a courtroom can be dangerous. The tone you use – whether your private conversations can be heard or not – everything is important. If you speak to your lawyer – WHISPER – better yet – write your concern down and hand it to him or her.
No one should be able to hear your communications with your lawyer. If you are somehow trying to use a "staged whisper" to communicate with the jury, the DA, or a witness, you are playing with fire. Do NOT do this. Also do not communicate with your lawyer during a witness's testimony – if distracts from the lawyers' full and unfettered focus on what the witness is saying. As before – write down your concerns briefly and hand your lawyer a note.
How To Treat The DA – Prosecutor
Never -ever – ever – speak to the DA – prosecutor without consulting and getting the permission of your lawyer. If you understand one thing more than anything else in your case – the DA, the police, and all those in law enforcement are not your friends.
They have no duty to you and communicating with them in any way whatsoever is can be dangerous and have an impact on the success of your case. A trial is a war – and the DA is the enemy – tactically it makes sense for the DA to use every advantage he or she can muster from whatever source – to win.. That includes what the DA can learn from you.
How To Keep Your Game Face On
Juries will study your every move. Acting as if you are "innocent" is nearly impossible because there is no such possible performance. To maintain a sense of innocence you must control your emotions lest they be misinterpreted.
NEVER react negatively or positively to any testimony. All experienced trial lawyers know that most of the communication we share with others is non-verbal. An experienced lawyer will never act surprised at anything that happens in the courtroom and neither should you. By reacting non verbally to evidence or arguments you hear during the trial – you are sending the wrong message to the jury.
When The Trial Is Over Or During Recesses
Walking out of the courtroom into the hallway or to the cafeteria – do not discuss the case with your lawyer until and unless you are in a private place. If the DA overhears your conversations with your lawyer – you may be disclosing information that will hurt you in your case.
The Colorado Crime Of Jury Tampering – 18-8-609
The suggestions above are only tactical and strategic in nature but the consequences of inappropriate conduct with reference with a jury can lead to the crime of jury tampering. Here is the crime defined.
§ 18-8-609. Jury-tampering
(1) A person commits jury-tampering if, with intent to influence a juror's vote, opinion, decision, or other action in a case, he attempts directly or indirectly to communicate with a juror other than as a part of the proceedings in the trial of the case.
(1.5) A person commits jury-tampering if he knowingly participates in the fraudulent processing or selection of jurors or prospective jurors.
(2) Jury-tampering is a class 5 felony; except that jury-tampering in any class 1 felony trial is a class 4 felony. Cite as C.R.S. § 18-8-609
The Dangers Of Juror Contact In A Colorado Criminal Jury Trials – Colorado Criminal Trial Law Guide
If you found any information I have provided on this web page article helpful please click my Plus+1 button below so that others may also find it.
Never stop fighting – never stop believing in yourself and your right to due process of law.
ABOUT THE AUTHOR: H. Michael Steinberg – Email The Author at [email protected] – A Denver Colorado Domestic Violence Criminal Defense Lawyer – or call his office at 303-627-7777 during business hours – or call his cell if you cannot wait and need his immediate assistance – 720-220-2277.
If you are charged with A Colorado crime or you have questions about the topic of this article –The Dangers Of Juror Contact In A Colorado Criminal Jury Trials – Colorado Criminal Trial Law Guide , please call our office. The Law Offices of H. Michael Steinberg, in Denver, Colorado, provide criminal defense clients with effective, efficient, intelligent and strong legal advocacy. We can educate you and help you navigate the stressful and complex legal process related to your criminal defense issue.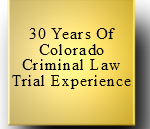 H. Michael Steinberg, is a Denver, Colorado criminal defense lawyer with over 30 years of day to day courtroom experience – specializing in Colorado Criminal Law along the Front Range. He will provide you with a free initial case consultation to evaluate your legal issues and to answer your questions with an honest assessment of your options. Remember, it costs NOTHING to discuss your case. Call now for an immediate free phone consultation.
H
Helping Clients To Make Informed Decisions In the Defense of Colorado Criminal Cases.
Contact A Lawyer with Three Decades of Experience as a Denver Criminal Attorney at The Steinberg Colorado Criminal Defense Law Firm today.
Colorado Defense Lawyer H. Michael Steinberg regularly appears and provides solid criminal defense for clients throughout the Front Range of Colorado – including the courts of:
Adams County (Adams County criminal defense lawyer), Arapahoe County (Arapahoe County criminal defense lawyer), City and County of Boulder (Boulder County criminal defense lawyer), City and County of Broomfield (Broomfield County criminal defense lawyer), City and County of Denver (Denver criminal defense lawyer), Douglas County (Douglas County criminal defense lawyer), El Paso County – Colorado Springs (Colorado Springs criminal defense lawyer), Gilpin County (Gilpin County criminal defense lawyer), Jefferson County (Jefferson County criminal defense lawyer), Larimer County, and Weld County ( Larimer and Weld County criminal defense lawyer,….
and all the other cities and counties of Colorado along the I-25 Corridor… on cases involving the subject of this article -? The Dangers Of Juror Contact In A Colorado Criminal Jury Trials – Colorado Criminal Trial Law Guide.
More Information:
If you found the information provided on this webpage to be helpful, please click my Plus+1 button so that others may also find it.
___________________________
H. Michael Steinberg Esq.
Attorney and Counselor at Law
The Colorado Criminal Defense Law Firm of H. Michael Steinberg
A Denver, Colorado Lawyer Focused Exclusively On
Colorado Criminal Law For Over 30 Years.

DTC Quadrant Building
5445 DTC Parkway, Penthouse 4
Greenwood Village, Colorado, 80111

Main: 303.627.7777
Cell: 720.220.2277
24/7 Pager: 303.543.4433
FAX (Toll Free): 1.877.533.6276

Always investigate a lawyer's qualifications and experience before making a
decision to retain that lawyer or, for that matter, any professional ...in any field.