Colorado Domestic Violence Trials – What Juries Really Think
By H. Michael Steinberg Colorado Domestic Violence Criminal Defense Lawyer – Attorney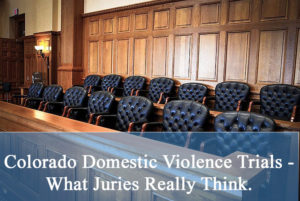 Colorado Domestic Violence Trials – What Juries Really Think – While prosecutors in Colorado and across the country win a large majority of their cases – a exception to that win rate is the Colorado domestic violence trial.
Domestic violence cases are an exception for many reasons. Most of the time the "victim" does not wish to "press' charges. Charges are brought by the police instead of the victim. Warrantless arrests are the rule and law enforcement rely most often on the alleged victim's statements and have no "objective" evidence of criminal activity when they arrive.
Later in the prosecution of the case, the alleged victim is unwilling to prosecute, will often recant and may even try to avoid a subpoena to testify.
The "Jury Factor" In Colorado Domestic Violence Cases
Because of the common features of Colorado domestic violence cases (that the alleged victim either does not want to prosecute the case or has recanted her original statement) – juries, unlike in other Colorado criminal cases, are typically not as sympathetic to the prosecutor's attempts to convict the accused.
Juries may believe that charges are being "trumped up" by the State of Colorado. Given the consequences of a finding of guilt in a domestic violence prosecution, juries are often sensitive to the impact of such a conviction on the Defendant's and his family's life.
Colorado jurors have an intuitive understanding of the impact of such policies as "pro or mandatory arrest" procedures (which juries may hear about during trial) have a clear "financial cost" to the community such as the loss of a job due to incarceration as well as additional strains a family's finances. Taken together – these factors actually end up making things much worse for Colorado's citizens.
Juries may listen to the recanting alleged "victim." to the inconsistency of her statements used by the DA to impeach the alleged victim when she changes her story at trial and then shake their heads all the way to the jury deliberations room. Weak cases will proceed to trial notwithstanding the victim's wishes.
Weak cases that are "made" or  "proven" by the introduction of "secondary evidence" such as 911 tapes, the testimonies of biased and poorly trained police officers and so called "domestic violence expert witnesses"  are often not enough to persuade juries who do not see the "victim" in the same light as the government – they will not try to "save" her from a situation of her own making.
The effect of forcing these cases to trial ends with victims feeling that they are being punished  a second time – re-victimized by the system that ignores her voice. Colorado domestic violence trials force  the alleged victim into a process over which she has no control – and into a trial that actually undermines her autonomy and takes away her right to personal decision-making.
Picking a Jury in a Domestic Violence Trial
Colorado domestic violence cases are often deeply personal for jurors. These cases raise very sensitive issues and strong feelings in jurors. The goal of jury selection in domestic violence cases is to uncover these feelings and strike pro – prosecution jurors before the trial begins.
A skilled Colorado domestic violence attorney must challenge jurors about their potential biases but that challenge must be conducted in a way that does not offend the jurors that remain on the jury after the selection process. If a juror is unable to keep and open mind about the evidence, the law, and the defense case, that juror cannot be allowed to remain on the jury.
Defendants already begin a criminal case at a disadvantage. Jurors presumptively believe the Defendant did something wrong or he or she wouldnot be sitting at the defense table.
Some Ideas Of The Kinds Of Questions That Target Uncovering The Prejudices Of Colorado Domestic Violence Juries
As noted above, jurors begin the process as "borderline hostile" to the Defendant at the start of jury selection. One way to counter these beliefs is to state – out of the gate – that neither side agrees with the crime of domestic violence.
The corollary of this statement is – neither side agrees with the prosecution of a person based on false or fraudulent charges of domestic violence.
Both points must clearly be made within the same jury selection proceeding.
Men As Victims of Domestic Violence
In many of the hundreds of Colorado domestic violence cases I have either prosecuted or defended, the woman is often the initial and primary aggressor. This issue, while controversial and uncomfortable, if it exists in a given case, must be driven home to the jury during jury selection.
The law is blind to the genders of the participants in a domestic violence altercation. When a man defends himself in a domestic violence context and – for example – holds down the female attacker to protect the two of them from serious injury, is she a "victim" of domestic violence? Is that an act of domestic violence?
There are not two standards for prosecuting Colorado domestic violence cases.  There is one standard for men and the same standard for women. The law allows a man to defend himself against any unwanted touching – whether that touching is by another man, a woman or a juvenile. The kind of antiquated notions – that a man can never be allowed to claim self defense where the aggressor is a woman – has no place in our courts.
Three Concrete Ideas To Apply In Selecting A Jury In A Colorado Domestic Violence Case
1. If The Judge Allows Written Questionnaire – Good Idea – As noted – any subject that may prove embarrassing for a jury should be in writing. Unfortunately, Judges in Colorado rarely permit written jury questionnaires because of the extra time they require.
2. Speak Directly To The Challenges About Talking In Public About Domestic Violence – Only by offering to talk in chambers should a juror not wish to discuss domestic violence issues in public – can you try to eliminate jurors with hidden agendas – whatever those agendas may be.
3. Help The Jury To Understand The LEGAL Definition Of Domestic Violence – Not Their Preconceived Notions – Understanding the actual legal definition of domestic violence under Colorado law, in the right case, can be at the CORE – the focus of the defense theory of the case.
Here is the relevant definition of Colorado Domestic Violence:
§ 18-6-800.3. (Colorado Domestic Violence) Definitions
(1) "Domestic violence" means an act or threatened act of violence upon a person with whom the actor is or has been involved in an intimate relationship.

"Domestic violence" also includes any other crime against a person, or against property, including an animal, or any municipal ordinance violation against a person, or against property, including an animal,

.….when used as a method of coercion, control, punishment, intimidation, or revenge directed against a person with whom the actor is or has been involved in an intimate relationship.

(2) "Intimate relationship" means a relationship between spouses, former spouses, past or present unmarried couples, or persons who are both the parents of the same child regardless of whether the persons have been married or have lived together at any time.
In addition to attacking the alleged commission of the crime as an act of domestic violence – the criminal defense attorney should explore with the jury the nature of the parties' relationship by closely examining the possible defense of the "lack of an intimate relationship."
While evidence of a sexual relationship is not necessary to establish the existence of an intimate relationship – it is one "indicator" of same. It is never a necessary condition of an intimate relationship for purposes of the Colorado domestic violence statute.
On the other hand, an intimate relationship must be more than that of a roommate, friend, or acquaintance, – there must be a romantic attachment or shared parental status between the parties.
The Colorado "Intimate Relationship" – In Domestic Violence Cases
Three factors used by the Colorado courts to indicate an intimate relationship are:
(1) The length of time the relationship has existed or did exist;
(2) The nature or type of the relationship; and
(3) The frequency of interaction between the parties.
Exploring The Hidden Biases As To What Really IS Domestic Violence With A Jury – Some Common Jury Selection Questions
An excellent source of legal publishing sources for criminal defense lawyers – is a company called James Publishing. One of their excellent articles poses the following and many more questions to assist the young inexperienced lawyer with great ideas for questions to use in the defense of Colorado domestic violence cases. Attribution is given to this fine company – here is a link to the online article.
What does the phrase "domestic violence" mean to you?

Do harsh words constitute "domestic violence"?

How about threatening words? Is that "domestic violence"?

What about emotional abuse or hurtful words? Is that "domestic violence"?

Does "domestic violence" always leave a visible mark or physical injury?

Does pushing or shoving constitute "domestic violence"?

What are your general feelings about women men who claim they have been the victim of domestic violence?

Why do you think that/feel that?

Why do you think a woman would claim to have been have been the victim of domestic violence? What makes you say that?

Some people believe that if a woman claims to have been abused, she must be telling the truth, because there is no reason to lie about this type of allegation. What do you think?

Can you think of any reason a woman might be less than truthful in this situation?

What are your general feelings about men women who are accused of domestic violence?

What kind of person is accused of domestic violence? What makes you say that?

What makes someone violent? Probe: stress? work? money problems? jealousy? alcohol? drugs? nagging?

Do any of these factors excuse the use of violence?

Do you feel that abusers must have a good reason if they become violent?
Do you feel that abusers must be provoked to become violent?

Should women who are accused of domestic violence be treated differently from men accused of the same acts?

In what ways should women be treated differently?

Would you more readily believe the testimony of a person who claims she/he was physically or mentally abused or the testimony of the person accused of the abuse? Why?

Some people hold the individual accused of domestic violence completely responsible for the violence, and some people assign some of the responsibility to the accuser. How do you feel? Why?

Some people think that a woman who has been hit by her partner probably deserved/provoked it? What do you think?

Do you believe people are free to make life choices for themselves?
Do you believe that people should accept responsibility for the consequences of the choices they make

Would you be less likely/more likely to believe allegations of domestic violence against specify characteristics of the defendant?

Is it ever okay to hit another person? – Under what circumstances? in anger? in frustration? in self-defense?

Is it ever okay for a man to hit a woman? – Under what circumstances? in anger? in frustration? out of jealousy? to teach her a lesson?

What are your general thoughts and feelings about actions taken in self-defense?

What does it mean to you to "act in self-defense"?

Some people think that individuals are responsible for who they are and what they make of themselves.
Colorado Domestic Violence Trials – What Juries Really Think
If you found any of the information I have provided on this web page article helpful please click my Plus+1 or the Share buttons for Twitter and Facebook below so that others may also find it.
The reader is admonished that Colorado criminal law, like criminal law in every state and at the Federal level, changes constantly. The article appearing above was accurate at the time it was drafted but it cannot account for changes occurring after it was uploaded.
If, after reading this article, you have questions about your case and would like to consider retaining our law firm, we invite you to contact us at the Steinberg Colorado Criminal Defense Law Firm – 303-627-7777.
Never stop fighting – never stop believing in yourself and your right to due process of law. You will not be alone in court, H. Michael will be at your side every step of the way – advocating for justice and the best possible result in your case. H. Michael Steinberg is passionate about criminal defense. His extensive knowledge and experience of Colorado Criminal Law gives him the edge you need to properly handle your case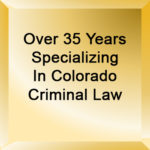 ABOUT THE AUTHOR: H. Michael Steinberg – Email The Author at:
A Denver Colorado Criminal Defense Lawyer – or call his office at 303-627-7777 during business hours – or call his cell if you cannot wait and need his immediate assistance – please call 720-220-2277.
"A good criminal defense lawyer is someone who devotes themselves to their client's case from beginning to end, always realizing that this case is the most important thing in that client's life."
You should be careful to make a responsible choice in selecting a Colorado Criminal Defense Lawyer. We encourage you to "vet" our firm. Over the last 30 plus years – by focusing ONLY on Colorado criminal law – H. Michael has had the necessary time to commit to the task of constantly updating himself on nearly every area of criminal law, to include Colorado criminal law and procedure and trial and courtroom practice. H. Michael works hard to get his clients the best possible results in and out of the courtroom. He has written, and continues to write, extensively on Colorado criminal law and he hopes this article helps you in some small way – Colorado Domestic Violence Trials – What Juries Really Think.