Colorado Domestic Violence Cases Prosecuting With No Victim – Can They Still Go To Trial?
By H. Michael Steinberg – Denver Colorado Domestic Violence Criminal Defense Lawyer
DRAFT 1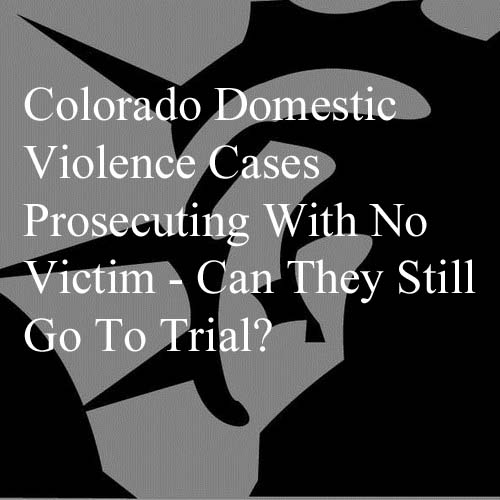 Colorado Domestic Violence Cases Prosecuting With No Victim – Can They Still Go To Trial?
Some Basic Issues – Denver, Colorado Domestic Violence Arrest, Crimes & Laws
Denver, Colorado criminal defense lawyers who investigate the arrests and investigations of those charged with Domestic Violence or domestic offenses are called upon to handle a wide spectrum of crimes.
Why You Cannot Rely On The Colorado Domestic Violence Victim's Promise Not To Testify
The power of the subpoena in a Colorado Domestic Violence case cannot be underestimated.
Colorado's District Attorney's Offices will make several attempts to reach and "capture" the cooperation of alleged victim's of Domestic Violence as early as possible and keep the victim in the prosecutor's "camp."
The experienced DV defense lawyer knows not to rely on an a victim's promise not to cooperate. In Colorado the defense of the case begins at the time of the arrest and does not end until the case is resolved by a dismissal, a plea bargain or a trial.
Again – since both sides – the defense and the prosecution – are trying to "lock in" the alleged domestic violence victim into clear statements that would be beneficial to their "side." The importance of the tactical advantage of getting the statement and simultaneously seizing the opportunity to find additional evidence can be critical to the successful defense of these case.
An experienced and intelligent prosecutor will seek the immediate cooperation of the domestic violence victim because he or she knows that by obtaining a favorable statement and then locking in the appearance of the victim at every court appearance after the questioning and investigation has been completed – the prosecutor has a much better chance of winning at trial.
The Authority To Arrest The Victim For Refusing To Come To Court In Colorado
If the alleged victim in a Colorado domestic violence case is personally served with a subpoena – that person – typically the original complainant in the case – cannot simply ignore that subpoena and not show up to testify.
A subpoena requiring the victim's presence is absolute. A judge can and will enforce – (through the issuance of an arrest warrant) – that subpoena to compel the appearance of the victim on the date, place and time listed on the paper. However, equally true is the fact that a District Attorney CANNOT compel the victim to appear in his or her office for an interview. A subpoena cannot force ANY party to meet with and speak with the DA – prosecutor.
Furthermore – not only can an alleged victim of domestic violence not be required to speak to the DA they cannot be forced to give – write – or sign a statement for the prosecutor EVEN IF the victim appears as requested in the DA's office OR the courthouse.  ANY witness can be compelled to testify by the personal service of a subpoena or up on court order – but that is the limits of the state's power over the victim.
The decision is totally up to the victim – she (usually she) is the person who must make the decision and she must decide what is in her best interests. The decision is hers and hers alone to make.
The Parts And Factors In The Decision To Make A Statement
The alleged victim of domestic violence is often not treated as "a whole person." She is told what to think, what to feel, how to act, and what is allegedly in her best interest. Often patronizing "victim advocates" believe THEY know what is best for the alleged victim and ignore her wishes and her feelings.
I recommend the alleged victim of domestic violence think through the case slowly, rationally, and intelligently. Prosecutors often do not see the big picture – and do not have a full understanding of the lives they may destroy. Like every witness to and every victim of a crime – the victim of domestic violence has rights that must be protected. They should be allowed to make the decisions in their life.
No one should TELL the victims of crime what to do – whether that is the state of Colorado or the person who is charged with the crime.
Can A Colorado Domestic Violence Case Be Prosecuted – Brought To Trial Without A Victim?
How can they prosecute the case – a Domestic Violence case -without the cooperation of the witness or victim to the crime?
The presence of the alleged victim of a domestic violence case -such as where there are charges of third degree assault, harassment, criminal mischief, false imprisonment or other similar offenses would appear – at first glance – to be absolutely necessary.
Wrong.
Even if your spouse, partner, or girlfriend does not want to cooperate with the police or prosecutors, your criminal case does not just "go away." DA's often believe – with very little evidence – that you are a threat to another person's safety especially if the victim makes allegations – false or otherwise – that there has been past abuse.
Finally – even if alleged victims of domestic violence demand they the DA "drop the charges," the DA – prosecutors can ignore that demand and go forward with the case.
This is how it usually happens:
Using The Defendant's Statements And Or Confession Against Him At Trial In A Colorado Domestic Violence Case.
The investigation of a domestic violence case normally begins with a 911 call – continues into the investigation phase (separating the parties) – then the arrest or arrests follow. It is during the investigation phase that the suspect makes the mistake of giving a statement to the police. It is that incriminating statement = where a suspect may have admitted to the crime or crimes under investigation – that can later be used against him at trial in lieu of the victim testifying.
BUT the law requires more than just your confession or incriminating statement to prove the crime or crimes charged. Some form of evidentiary corroboration is needed to support a defendant's confession.
The Use of Emergency 911 Calls, "Present Sense Impressions" "Excited Utterances" In Colorado Domestic Violence Cases
Hearsay is non-direct testimony. That means – statements from a source other than the declarent – (the person making the statement). All witnesses can testify ONLY to their personal observations and are not allowed to testify to the words or observations of others. However, there are many exceptions.
One exception the 911 call at trial that has recorded the words – sounds and actions of the victim during the alleged commission of the crime. Prosecutor's are permitted to admit the 911 tape at trial because it is evidence of what was going on at the precise time of the alleged crime. This evidence is called a "Present Sense Impression" or an "Excited Utterance. This evidence and is an exception to the hearsay rule. The evidence is used as a "way around" the need for the victim to testify.
DA's often use the 911 tape as evidence that corroborates the suspect's incriminating statements.
Another way around lack of cooperation of the alleged victim is to admit – as corroboration of an assault for example (that the suspect punched the alleged victim in the eye)  – are photographs of a black eye. Again – this is the kind of corroboration that can be admitted at trial to bolster an otherwise weak case.
Yet another way to prove a case of domestic violence without the alleged victim is to admit prior statements of the victim to the first responders investigating the case. This introduces the next section.
Observations By The Police At The Scene and Statements Made By Other Witnesses At or Near The Scene
Police observations at the scene, and other witnesses who may have heard or witnessed what they believe was an act of domestic violence may testify as to their observations of the victim and of the crime itself. Even without the "complainant/victim" – these eye witnesses can "corroborate" circumstantially or with direct eyewitness evidence – that – for example – an assault occurred. Examples here include  – the victim was crying or emotionally unstable – or she had red marks across her face, her arm, or throat or she sustained other kinds of bruising consistent with an assault.
The Use of Electronic Media Such As Video, Cell Or Land Line Records, Texts and Emails
Today – all forms of "electronic media" can be used to prove crimes of domestic violence such as harassment, third degree assault, computer crimes, or stalking. Law enforcement has become very sophisticated at finding the "tracks" or "bread crumbs" each of us leaves behind in the internet age. IP addresses taken from the net, GPS information taken from cell towers, text messages recovered from cell phone providers, messages left on cell phone voice mail, video taken from streets, stores and malls … are all used to prove a case of alleged domestic violence.
Evidence from these sources are used to further corroborate the case against the accused.
Summary – Colorado Domestic Violence Cases Prosecuting With No Victim – Can They Still Go To Trial?
The bottom line – do not make the mistake that the refusal of the alleged victim of domestic violence to cooperate in the prosecution of a case ends the matter.. District Attorneys in every county in the state of Colorado use multiple methods to take these cases to trial using other sources of evidence to attempt to prove the charges against you.. Call a qualified Colorado Domestic Violence Criminal Defense Lawyer today .. Do not assume the case will just "go away."
If you found any information I have provided on this web page article helpful please click my Plus+1 button below so that others may also find it.
Never stop fighting – never stop believing in yourself and your right to due process of law.
ABOUT THE AUTHOR: H. Michael Steinberg – Email The Author at [email protected] – A Denver Colorado Domestic Violence Criminal Defense Lawyer – or call his office at 303-627-7777 during business hours – or call his cell if you cannot wait and need his immediate assistance – 720-220-2277. Attorney H. Michael Steinberg is passionate about criminal defense. His extensive knowledge and experience of Colorado Criminal Law gives him the edge you need to properly handle your case.
A Disclaimer: While every effort has been made to ensure the accuracy of this publication, it is not intended to provide legal advice as individual situations will differ and should be discussed with an expert and/or lawyer. If you are seeking counsel there maybe other more specific technical or legal advice on the information provided and related topics. For that, please contact the author.
If you are charged with A Colorado crime or you have questions about the topic of this article – Colorado Domestic Violence Cases Prosecuting With No Victim – Can They Still Go To Trial?, please call our office. The Law Offices of H. Michael Steinberg, in Denver, Colorado, provide criminal defense clients with effective, efficient, intelligent and strong legal advocacy. We can educate you and help you navigate the stressful and complex legal process related to your criminal defense issue.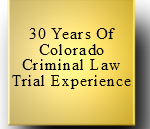 H. Michael Steinberg, is a Denver, Colorado criminal defense lawyer with over 30 years of day to day courtroom experience – specializing in Colorado Criminal Law along the Front Range. He will provide you with a free initial case consultation to evaluate your legal issues and to answer your questions with an honest assessment of your options. Remember, it costs NOTHING to discuss your case. Call now for an immediate free phone consultation.
Helping Clients To Make Informed Decisions In the Defense of Colorado Criminal Cases.
Contact A Lawyer with Three Decades of Experience as a Denver Criminal Attorney at The Steinberg Colorado Criminal Defense Law Firm today.
Colorado Defense Lawyer H. Michael Steinberg regularly appears and provides solid criminal defense for clients throughout the Front Range of Colorado – including the courts of:
Adams County (Adams County criminal defense lawyer), Arapahoe County (Arapahoe County criminal defense lawyer), City and County of Boulder (Boulder County criminal defense lawyer), City and County of Broomfield (Broomfield County criminal defense lawyer), City and County of Denver (Denver criminal defense lawyer), Douglas County (Douglas County criminal defense lawyer), El Paso County – Colorado Springs (Colorado Springs criminal defense lawyer), Gilpin County (Gilpin County criminal defense lawyer), Jefferson County (Jefferson County criminal defense lawyer), Larimer County, and Weld County ( Larimer and Weld County criminal defense lawyer,….
…and all the other cities and counties of Colorado along the I-25 Corridor… on cases involving the subject of this article – Colorado Domestic Violence Cases Prosecuting With No Victim – Can They Still Go To Trial?
Other Articles of Interest:
If you found the information provided on this webpage to be helpful, please click my Plus+1 button so that others may also find it.
___________________________
H. Michael Steinberg Esq.
Attorney and Counselor at Law
The Colorado Criminal Defense Law Firm of H. Michael Steinberg
A Denver, Colorado Lawyer Focused Exclusively On
Colorado Criminal Law For Over 30 Years.

DTC Quadrant Building
5445 DTC Parkway, Penthouse 4
Greenwood Village, Colorado, 80111

Main: 303.627.7777
Cell: 720.220.2277
24/7 Pager: 303.543.4433
FAX (Toll Free): 1.877.533.6276

Always investigate a lawyer's qualifications and experience before making a
decision to retain that lawyer or, for that matter, any professional ...in any field.