Why Police And Prosecutors Overcharge In Colorado Domestic Violence Cases
By H. Michael Steinberg Colorado Domestic Violence Criminal Defense Lawyer – Attorney – Email: [email protected]
Why Police And Prosecutors Overcharge In Colorado Domestic Violence Cases – The decision of the police officer on the scene or the Deputy District Attorney in the courtroom – to add charges to a domestic violence or any other criminal case filing for that matter – is one that is – in the final analysis – calculated to coerce a plea bargain.
When an arrest is made and charges filed in the typical misdemeanor domestic violence case – the nature and number of charges filed are not limited to the charges on the complaint or "ticket" issued by the officer. The prosecutor can ADD additional charges under a Colorado Rule of Procedure – Rule 7,
Here are the relevant sections of Rule 7 (sections c and e ):
(c) Misdemeanor and Petty Offense Proceedings.
(1) Procedure Following Arrest. If a peace officer or any other person makes an arrest, either with or without a warrant, the arrested person shall be taken without unnecessary delay before the nearest available county court. Thereafter a complaint or summons and complaint shall be filed, if it has not already been filed, immediately in the proper court and a copy thereof given to the defendant at or before arraignment. Trial may be held forthwith if the court calendar permits, immediate trial appears proper, and the parties do not request a continuance for good cause. Otherwise the case shall be set for trial as soon as possible.
… (and (e))
(e) Amendment of Information. The court may permit an information to be amended as to form or substance at any time prior to trial; the court may permit it to be amended as to form at any time before the verdict or finding if no additional or different offense is charged and if substantial rights of the defendant are not prejudiced.  
The Nature Of Plea Bargaining In Colorado DomesticViolence Cases
It is well known to all in the criminal justice system that nearly all criminal cases are resolved through plea bargaining both in state and federal courts.  93% to 95% of all criminal cases in local and state courts, and 97% of federal prosecutions resolve through pleas. Research about plea bargaining proves that if multiple crimes are charged in a case – there are substantially greater odds that the accused will plea bargain the case.
"Inflating" the charges – adding additional charges such as child abuse in misdemeanor domestic violence cases – gives the prosecutor "currency" to compel a plea to lesser charges.  Here's the problem – the innocent defendant may think he or she is getting a "good deal" in cases where the case should be fought to dismissal -whether that dismissal is voluntary – by the prosecutor – dismissed by a judge – or results in an acquittal by the jury at trial.
Unrepresented or so called "pro se" Colorado domestic violence arrestees – with no experience in the criminal justice system – are frequently fooled by clever prosecutors who use that ignorance to persuade the innocent to plead guilty – usually this occurs in the "fast track" system while the accused in is custody and desperate to "get out."
Plea bargaining has been referred to as "the exchange of official concessions for a defendant's act of self-conviction"
A Closer Look At "Charge Inflation" – Or Upping The Charges To Get "The Plea"
Most police issued summon's for domestic violence that contain only one or maybe two charges.
The nature of plea bargaining is not unlike basic trading or other forms of negotiation. The negotiable "currency" of plea bargaining are the charges in the case – other cases – or sentencing concessions. When multiple charges have been filed, for example, one or more counts of harassment – third degree assault, criminal mischief, or child abuse, some of the charges can be dismissed in exchange for a guilty plea to one or more others. Felonies are often reduced to misdemeanors in exchange for a plea of guilt and closing the case.
The Use Of The RO's  (Reporting Officer's) Police Report To Bring New Charges 
The investigating officer's report is the primary source of unfiled charges in domestic violence cases. The breaking of the alleged victim's mobile phone, a fight witnessed by the children, fleeing the scene and similar facts – can be used to add additional charges not filed by the original investigating officers. The acts described and the charges listed in the first responding police officer's written report – and those that are added later – are the "prosecutorial currency" used by the DA during plea negotiations.
---
There is strong evidence that for each additional charge arising from the original officer's report report, the odds of prosecution increase by 284%, and of conviction by 142%.
---
The Inflation Of A Case By Adding Alleged Crimes
Why do prosecutor's "trump up" charges?  It is to a prosecutor's advantage to file a felony charge in an otherwise misdemeanor case whenever there is some evidence to support doing so.
There are several reasons for this.
1. A felony charge, even if it is weak, can be leveraged to induce a plea bargain by reducing the plea to a misdemeanor in exchange for a guilty plea. The fleony provides a negotiating advantage.
2. There is no repercussion to the prosecutor for charge inflation. 
3. Prosecutors work hard to cultivate an image of being tough on crime – adding charges helps this image and allows the DA to appear to dismiss the added charges as an act of fairness "in the interests of jsutice."
The Many Impacts Of Inflating Charges – Trumping Up The Charges Causes Pain
"Charge inflation" can cause at least two additional problems – first, if someone is arrested and bonds out of jail on a misdemeanor – and later the DA decides to 'up" the charges – that person can be re-arrested and compelled to post a new – and higher – bail bond.
Second, IF the misdemeanor domestic violence charge is dismissed and the higher charge is then filed – TWO case numbers may be created which gives the impression that one's criminal history is much more serious and expansive than it is.
In cases actually warranting the higher charges – the key difference between a misdemeanor and a felony domestic violence charge is usually the presence or absence of some kind of "traumatic condition"  such as a bruise, a deep laceration, a burn, a broken bone, internal injuries, and the like. With the exception of the internal injuries – the nature of the injury is immediately known to the police and easily documented through testimony, photographs, medical records, and other forms of evidence.
The decision to charge the case as a misdemeanor usually reflects the officer's – not the district attorney's – laziness and refusing to the paperwork necessary to file the higher charge.  It is then left to the DA to dismiss the misdemeanor and up the charges to a felony.
When Past "ISSUES" Are Rehashed – Reaching Into Prior Allegations To "Aggravate" A Colorado Domestic Violence Case
The police and the prosecutors of domestic violence case will often reach into the past to locate other acts of alleged domestic violence. Many times the police will seize evidence of alleged prior acts of domestic violence such as photos of past injuries stored in their mobile phone, or statements from children or friends who may have been present during rows that may be many months,  if not years – old.
Children, neighbors, and 911 callers may also be interviewed about past crimes. The examination of broken items and other damage to the house may be used to file vandalism or similar charges. Email, text messages, and other forms of communication may also be collected as evidence of criminal threats, felony stalking, and the like
These prior allegations are then used by prosecutors to argue for aggravation at trial or at the sentencing phase of the case.
Increased Bail Bond May Mean Losing A Job or the Capability to Provide Child, Dependent or Other Adult Care Responsibilities
The financial inability to "bail out of jail" can affect one's employment, one's potential to care for their children or other dependent or disabled adult family members. It can also mean the inability to meet financial obligations and the loss of one's employment thus impacting long term finances and the care and protection of dependents.
If you feel as if you have been overcharged or otherwise you are being treated unfairly – call our office for a free consultation – we may be able to help you through this nightmare.. H. Michael Steinberg
Why Police And Prosecutors Overcharge In Colorado Domestic Violence Cases
ABOUT THE AUTHOR: H. Michael Steinberg – Email The Author  – A Denver Colorado Domestic Violence Criminal Defense Lawyer  – or call his office at 303-627-7777 during business hours – or call his cell if you cannot wait and need his immediate assistance – 720-220-2277.
If you are charged with A Colorado crime or you have questions about [shoplifting or grand theft], please call our office. The Law Offices of H. Michael Steinberg, in Denver, Colorado, provide criminal defense clients with effective, efficient, intelligent and strong legal advocacy. We can educate you and help you navigate the stressful and complex legal process related to your criminal defense issue.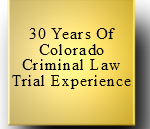 H. Michael Steinberg, is a Denver, Colorado criminal defense lawyer with over 30 years of day to day courtroom experience –  specializing in Colorado Criminal Law along the Front Range.  He will provide you with a free initial case consultation to evaluate your legal issues and to answer your questions with an honest assessment of your options.  Remember, it costs NOTHING to discuss your case.  Call now for an immediate free phone consultation.
Helping Clients To Make Informed Decisions In the Defense of Colorado Criminal Cases.
Contact A Lawyer with Three Decades of Experience as a Denver Criminal Attorney at The Steinberg Colorado Criminal Defense Law Firm Today.
Colorado Defense Lawyer H. Michael Steinberg provides solid criminal defense for clients throughout the Front Range of Colorado – including the City and County courts of Adams County, Arapahoe County, City and County of Boulder, City and County of Broomfield, City and County of Denver, Douglas County, El Paso County – Colorado Springs, Gilpin County, Jefferson County, Larimer County, and Weld County,…. and all the other cities and counties of Colorado along the I-25 Corridor… on cases involving …Why Police And Prosecutors Overcharge In Colorado Domestic Violence Cases.
Other Articles of Interest:
If you found the information provided on this webpage to be helpful, please click my Plus+1 button so that others may also find it.
___________________________
H. Michael Steinberg Esq.
Attorney and Counselor at Law
The Colorado Criminal Defense Law Firm of H. Michael Steinberg
A Denver, Colorado Lawyer Focused Exclusively On
Colorado Criminal Law For Over 30 Years.

DTC Quadrant Building
5445 DTC Parkway, Penthouse 4
Greenwood Village, Colorado, 80111

Main: 303.627.7777
Cell: 720.220.2277
24/7 Pager: 303.543.4433
FAX (Toll Free): 1.877.533.6276

Always investigate a lawyer's qualifications and experience before making a
decision to retain that lawyer or, for that matter, any professional ...in any field.