Why Police And Prosecutors Overcharge In Colorado Domestic Violence Cases
By H. Michael Steinberg Colorado Domestic Violence Criminal Defense Lawyer – Attorney – Email: [email protected]
Why Police And Prosecutors Overcharge In Colorado Domestic Violence Cases – The decision of the police officer on the scene or the Deputy District Attorney in the courtroom – to add charges to a domestic violence or any other criminal case filing for that matter – is one that is – in the final analysis – calculated to coerce a plea bargain.
When an arrest is made and charges filed in the typical misdemeanor domestic violence case – the nature and number of charges filed are not limited to the charges on the complaint or "ticket" issued by the officer. The prosecutor can ADD additional charges under a Colorado Rule of Procedure – Rule 7,
Here are the relevant sections of Rule 7 (sections c and e ):
(c) Misdemeanor and Petty Offense Proceedings.
(1) Procedure Following Arrest.
If a peace officer or any other person makes an arrest, either with or without a warrant, the arrested person shall be taken without unnecessary delay before the nearest available county court. Thereafter a complaint or summons and complaint shall be filed, if it has not already been filed, immediately in the proper court and a copy thereof given to the defendant at or before arraignment. Trial may be held forthwith if the court calendar permits, immediate trial appears proper, and the parties do not request a continuance for good cause. Otherwise the case shall be set for trial as soon as possible.
… (and (e))
(e) Amendment of Information.
The court may permit an information to be amended as to form or substance at any time prior to trial; the court may permit it to be amended as to form at any time before the verdict or finding if no additional or different offense is charged and if substantial rights of the defendant are not prejudiced.
The Nature Of Plea Bargaining In Colorado Domestic Violence Cases
It is well established to all in the criminal justice system that early all criminal cases are resolved through plea bargaining both in state and federal courts.  93% to 95% of all criminal cases in local and state courts, and 97% of federal prosecutions resolve through pleas. Research about plea bargaining proves that if multiple crimes are charged in the case – there are substantially greater odds that the accused will plea bargain the case.
"Inflating" the charges – adding additional charges such as child abuse in misdemeanor domestic violence cases – gives the prosecutor "currency" to compel a plea to lesser charges.  Here's the problem – the innocent defendant may think he or she is getting a "good deal" in cases where the case should be fought to dismissal -whether that dismissal is voluntary – by the prosecutor – DA – dismissed by a judge – or an acquittal by the jury.
Unrepresented or so called "pro se" Colorado domestic violence arrestees – with no experience in the criminal justice system – are frequently fooled by clever prosecutors who use their  ignorance of plea bargaining tactics to persuade them to plead guilty. This usually this occurs in the "fast track" system while the accused is in custody and desperate to "get out" of jail. 
The DA – sometimes with the assistance of the judge – does not make it clear that they WILL be allowed to post a reasonable bail bond and gain their freedom and time to think about the plea bargain offer and most importantly to consult a lawyer.
Plea bargaining has been referred to as "the exchange of official concessions for a defendant's act of self-conviction"
A Closer Look At Charge Inflation – Or Upping The Charges To Get "The Plea"
Most police issued summon's for domestic violence that contain only one or maybe two charges.
The nature of plea bargaining is not unlike basic trading or other forms of negotiation. The negotiable "currency" of plea bargaining are the charges in the case – other cases – or sentencing concessions. When multiple charges have been filed, for example, one or more counts of harassment – third degree assault, criminal mischief, or child abuse, some of the charges can be dismissed in exchange for a guilty plea to one or more others. Felonies are reduced to  misdemeanors in exchange for a plea of guilt.
The Use Of The RO's  (Reporting Officer's Police Report To Bring New Charges
The investigating officer's report is the primary source of unfiled charges in domestic violence cases. The breaking of the alleged victim's mobile phone, a fight witnesses by small children, fleeing the scene and similar facts – can be used to add additional charges not filed by the original investigating officers. The acts described and the charges listed in the first responding police officer's written report are the "prosecutorial currency" used by the DA during plea negotiations.
There is strong evidence that for each additional charge arising from the original officer's report report, the odds of prosecution increase by 284%, and of conviction by 142%.
Prosecutors Overcharge In Colorado Domestic Violence Cases – The Inflation Of A Case By Adding Additonal Alleged Crimes
Why do prosecutor's "trump up" charges.  It is to a prosecutor's advantage to file a felony charge whenever there is some evidence to support doing so. There are several reasons for this.
1. The addition of a felony charge, even if it is weak, can be leveraged to induce a plea bargain by reducing the plea to a misdemeanor in exchange for a guilty plea. The felony charge adds a negotiating advantage.
2. There are no repercussions for charge inflation by the prosecution. 
3. Prosecutors work hard to cultivate an image of being tough on crime – adding charges helps this image and allows the DA to appear to dismiss the charges as an act of fairness.
The Many Impacts Of Inflating Charges – Or Trumping Up The Charges Causes Pain
First, charge "inflation" is problematic because an arrest on a misdemeanor DV case requires little or no bail bond funds. But an arrest on a felony DV charge could potentially inflict serious damage on an individual's financial status.  Posting a felony bond is many times higher than for the analogous misdemeanor.
Second, a felony arrest – even if it is pled down to a misdemeanor remains on your criminal history permanently.  The record will show the original felony arrest and or felony charges and the plea down to a misdemeanor… essentially a criminal history reflects everything that occurred in the case.
Prosecutors up the charges if they can find any facts that could support the higher charge – such as the difference between a misdemeanor third degree assault and a felony second degree assault. … examples include the presence of "a traumatic condition" such as a laceration around the alleged victim's throat, a broken bone, some kind of internal injuries, a burn, a clump of hair pulled out and so on.
If the traumatic condition is capable of being documented through testimony, photographs, medical records, and so forth, there may be sufficient evidence to charge the felony domestic violence count. Through detailed questioning of the alleged victim at the time of the 911 call – the police might find a car was scratched, or a window was broken, (to add criminal mischief charges) – visible bruises under clothing, (to add multiple assault charges) or threatening text messages or email on the alleged victim's phone (to support Colorado felony stalking charges).
Conclusion Prosecutors Overcharge In Colorado Domestic Violence Cases
The practical implication of charge inflation is to point out the need to consult with a Colorado criminal defense lawyer quickly – to advise you of the best course of action to take before irreparable damage is done to your freedom, your finances, or your career.
ABOUT THE AUTHOR: H. Michael Steinberg – Email The Author  – A Denver Colorado Domestic Violence Criminal Defense Lawyer  – or call his office at 303-627-7777 during business hours – or call his cell if you cannot wait and need his immediate assistance – 720-220-2277.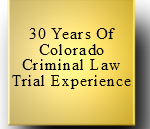 H. Michael Steinberg is an aggressive Colorado criminal defense lawyer with over 30 years of Colorado Criminal Law experience. He is not looking to negotiate a plea in every case. He is looking for the best possible outcome, based on all the facts and evidence, so that you can get on with your life.
"I believe that I can help people who are in need and deliver the kind of quality legal service to clients they expect." – H. Michael Steinberg
Please call H. Michael if you have any questions about the topic in this case – Prosecutors Overcharge In Colorado Domestic Violence Cases.
Other Articles of Interest:
If you found the information provided on this webpage to be helpful, please click my Plus+1 button so that others may also find it.
___________________________
H. Michael Steinberg Esq.
Attorney and Counselor at Law
The Colorado Criminal Defense Law Firm of H. Michael Steinberg
A Denver, Colorado Lawyer Focused Exclusively On
Colorado Criminal Law For Over 30 Years.

DTC Quadrant Building
5445 DTC Parkway, Penthouse 4
Greenwood Village, Colorado, 80111

Main: 303.627.7777
Cell: 720.220.2277
24/7 Pager: 303.543.4433
FAX (Toll Free): 1.877.533.6276

Always investigate a lawyer's qualifications and experience before making a
decision to retain that lawyer or, for that matter, any professional ...in any field.