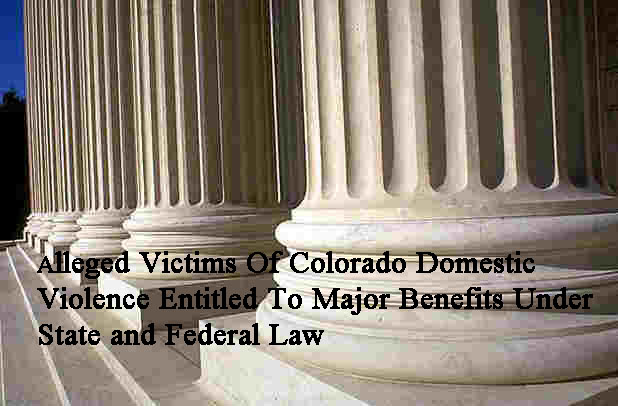 By H. Michael Steinberg Colorado Domestic Violence Crimes Criminal Defense Lawyer – Email the Author at [email protected]
Alleged Victims Of Colorado Domestic Violence Entitled To Major Benefits Under State and Federal Law – The "presumption of guilt" that follows a charge of a crime of domestic violence in Colorado and across the nation is unlike any other criminal charge in the criminal justice system.
Well before any kind of finding of guilt or innocence in these cases, an entire host of laws and services – commonly called "resources" kicks in for the "victims" of alleged domestic violence even before they are formally adjudicated AS VICTIMS.
The system presumes the accused is guilty and the alleged victim is – of course – telling the truth.
In a recent article I located from a group of researches in Canada – I found  what I consider to be the most coherent analysis of what has happened in the area of what I will call "domestic violence law."
The Feminist Ideology of Domestic Violence And The Laws That Follow It
The view that is responsible for many of the laws protecting alleged victims of domestic violence is so one sided as to call into question the fundamental fairness of the treatment of tens of thousands of men across the country simply accursed of domestic violence.
Here is a LINK to – The Gender Paradigm in Domestic Violence Research and Theory: Part 1—the Conflict of Theory and Data – an important study about this issue the study and some excerpts from it:
Male violence in this country is always attributed to a broader social agenda.
As a result of this perspective, feminists tend to generalize about violent men, about men in general, and to ignore female pathology. As Dobash and Dobash (1979) put it, "Men who assault their wives are actually living up to cultural prescriptions that are cherished in Western society–aggressiveness, male dominance and female subordination–and they are using physical force as a means to enforce that dominance" (p. 24). Bograd (1988) defined feminist researchers as asking the fundamental question "Why do men beat their wives….
Feminists seek to understand why men in general use physical force against their partners and what functions this serves in a given historical context".
In fact, the data demonstrate that while feminists are accurate in portraying abuse in intimate relationships as rampant, the reality is that most often both parties engage in aggression (Stets & Straus, 1992a, 1992b; Kessler et al., 2001, Nicholls & Dutton, 2001).
Feminism favors strong arrest policies and "intervention" rather than treatment (since treatment implies that society is less to blame) (Pence & Paymar, 1993). It is not clear how men are held individually responsible by feminism when patriarchy is to blame, nor how feminists account for differences in male populations in attitudes and acceptance of violence.
Among The Laws That Give The Alleged Victims of Domestic Violence An Overwhelming Presumption Of Truthfulness.
Alleged Victims of Domestic Violence Are Given Time Off From Work:
Time to testify at trial C.R.S. 24-4.1-303.
Time to seek a protection order, receive medical, mental health, or legal assistance, or secure your home C.R.S. 24-34-402.7.
If you feel you must leave your job because of safety concerns C.R.S. 8-73-108.
Alleged Victims of Domestic Violence Are Freely and Liberally Awarded Various Protection Orders
Mandatory protective order in criminal cases, including no contact orders C.R.S. 18-1-1001. 
Civil Protection Orders C.R.S. Title 13, Article 14. 
Employers obtaining protection orders C.R.S. 13-14-104.5 and C.R.S. 13-14-105 (1)(f).
Unemployment benefits resulting from job termination due to domestic violence.) C.R.S. 8-73-108 (4)(r).
Domestic Abuse Discrimination in Health Care
Discrimination against domestic violence victims is prohibited (including by health insurance companies). C.R.S. 10-3-1104.8.
Domestic Violence Falls Under The Occupational Health and Safety Act (OSHA)
Provision of a workplace free from recognized hazards 29 U.S.C. §654 (a)(1).
Required reporting by employers to OSHA regarding family member assault. 29 C.F.R. §1904.5.
Various Laws "Protect" Alleged Victims From "Sexual Harassment"
Acts of violence against men and women may violate state and/or federal anti-discrimination laws. 42 U.S.C. §2000e-3a.
The Americans with Disabilities Act (The ADA) Has Liberal Provisions Protecting Alleged Victims of Domestic Violence
Victims with injuries from domestic violence may fall within the parameters of the ADA. The ADA applies to businesses with 15 or more employees. 42 U.S.C. §12101 et seq.
So Does The Family Medical Leave Act
Requires up to 12 weeks of unpaid leave for an employee to deal with own medical matters or those of a spouse, parent, or child's serious medical condition. This applies to employers with 50 or more employees. 29 U.S.C. §2612 (a)(1).
And Of Course There Is The Ever Present Hand Of The Federal Government – The Violence Against Women Act (VAWA)
The protections of the VAWA – which was re-authorized 2013.  Click here to view the Complete Act
Alleged Victims Of Colorado Domestic Violence Entitled To Major Benefits Under State and Federal Law
If you found any information I have provided on this web page article helpful please click my Plus+1 button below so that others may also find it.
ABOUT THE AUTHOR: H. Michael Steinberg – Email The Author at [email protected] – A Denver Colorado Domestic Violence Criminal Defense Lawyer – or call his office at 303-627-7777 during business hours – or call his cell if you cannot wait and need his immediate assistance – 720-220-2277.
If you are charged with A Colorado crime or you have questions about the topic of this article –Alleged Victims Of Colorado Domestic Violence Entitled To Major Benefits Under State and Federal Law, please call our office. The Law Offices of H. Michael Steinberg, in Denver, Colorado, provide criminal defense clients with effective, efficient, intelligent and strong legal advocacy. We can educate you and help you navigate the stressful and complex legal process related to your criminal defense issue.
H. Michael Steinberg, is a Denver, Colorado criminal defense lawyer with over 30 years of day to day courtroom experience – specializing in Colorado Criminal Law along the Front Range. He will provide you with a free initial case consultation to evaluate your legal issues and to answer your questions with an honest assessment of your options. Remember, it costs NOTHING to discuss your case. Call now for an immediate free phone consultation.
Helping Clients To Make Informed Decisions In the Defense of Colorado Criminal Cases.
Contact A Lawyer with Three Decades of Experience as a Denver Criminal Attorney at The Steinberg Colorado Criminal Defense Law Firm today.
Colorado Defense Lawyer H. Michael Steinberg provides solid criminal defense for clients throughout the Front Range of Colorado – including the City and County courts of Adams County, Arapahoe County, City and County of Boulder, City and County of Broomfield, City and County of Denver, Douglas County, El Paso County – Colorado Springs, Gilpin County, Jefferson County, Larimer County, and Weld County,…. and all the other cities and counties of Colorado along the I-25 Corridor… on cases involving the subject of this article – Alleged Victims Of Colorado Domestic Violence Entitled To Major Benefits Under State and Federal Law.